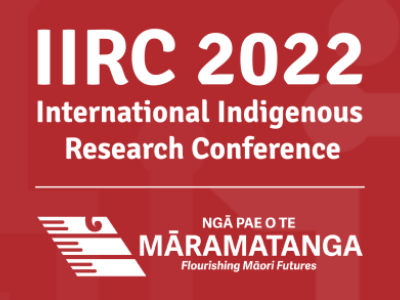 Celebrating 20 years of being Aotearoa New Zealand's only Indigenous Centre of Research Excellence, Ngā Pae o te Māramatanga (NPM) are excited to invite you to join us online from 15 – 18 November 2022 for our 2nd virtual and 10th International Indigenous Research Conference (IIRC).
Fulbright NZ has announced the 2020 cohort of Fulbright New Zealand Scholar Award Grantees and included in this NZ-wide grantees list are NPM researchers.

Professor Huia Jahnke (Ngāti Kahungunu, Ngāti Toa Rangatira, Ngāi Tahu, Ngāti Hine) from Massey University is a Principal Investigator with Ngā Pae o te Māramatanga and will research the nature of Indigenous community/higher education partnerships and resultant strategic initiatives at University of California, Los Angeles and the Salish-Kootenai Tribal College, Montana.

Conference Registrations are open for NPM's 2020 9th Biennial International Indigenous Research Conference (IIRC20) 16 - 20 November, 2020.

IIRC20 will be filled with important presentations of the latest Indigenous research, book launches, panel discussions, national and international keynotes, workshops and in-conference workshops.

The Journal of the Royal Society of New Zealand has opened 2020 with the release of a special issue on subjects of immense importance to Māori and to Aotearoa New Zealand. 

He Āpiti Supplement: Ngā Ahua o te Ao Hurihuri - Rethinking our shared futures  delivers a powerful collection of writing from some leading Māori and Pākehā researchers and academics.  

Toitū te whenua, whatungarongaro te tangata
Waihoki, e te purapura tuawhiti kua riro,
Kei te mumu ahurea tuakiri, e Piri,
kua tāwhaitia te paenga taumata okiokinga.
Mahue mai te nuipuku e tangi apakura nei
 
Kei te ihuoneone o te reo me ōna tikanga.
E te pia pono nō te kawa o Tāne Rore
Kua ngū, kua moe tāu wahaika
Tō te atua tā, tē papare, tē kakaro.
 
Hoake nā ki te whakahiato kahurangi
Nei rā a Ngā Pae o te Māramatanga e tangi tawhiti nei.
E te tētē kura, haere, haere, whakangaro atu rā

Ngā Pae o te Māramatanga and NPM researchers have contributed to the latest special issue of New Zealand Science Review, which is the first of two dedicated to Mātauranga and Science in Practice.

Dr Tahu Kukutai, Professor of Demography at Te Rūnanga Tūtari Tatauranga, Te Whare Wānanga o Waikato has joined with Professor Juliet Ann Gerrard the Prime Minister's Chief Science Advisor, to write the forward for the issue.

A series of professorial and associate professor promotions and appointments were announced at universities across Aotearoa New Zealand at the end of 2019, to bring to a conclusion a very busy and productive year.

NPM's congratulations to all those promoted.

NPM'S 2019-2020 Summer Internship programme is now well underway with an outstanding group of inspiring emerging Māori researchers, working with Principal and Associate Investigators all over the country and engaged in an exciting range of projects across our research themes.

The interns and supervisors came together (mostly online) at the beginning of the summer programme in December, and are continuing to meet as a national rōpu on a weekly basis to share and be inspired by the career stories, insights and experiences of notable senior Māori leaders and researchers.

I tēnei tau 2019 kua tukua mai e Ngā Pae o Te Māramatanga, he taumata o MAI Pitopito Kōrero (MAI Journal) kia whakaaratia mai e ngā kaituhi reo a rātou pūkenga rangahau tuhituhi ki roto i tō tātou reo rangatira. He taumata hohonu, ātaahua tēnei kia whakaaratia te kounga o te reo rangahau haepapa matatau. Ko te kōmata taketake mō āu nei kaupapa rangahau kia tuhia mai ki roto i te reo.

What do a mānuka-honey cooperative in Northland, a ginseng exporter in the King Country and a prison services provider in Dunedin have in common? All are examples of Māori-owned business forging a distinctive identity in New Zealand's economic and social future.

Since 2017 a specialised team based out of the University of Waikato and led by NPM Principal Investigator Dr Haki Tuaupiki have been working on identifying the traditional Māori language of navigation with the NPM scoping project Te Mātauranga Wakatere Waka.
 
How was language used as a navigational aid in Māori navigation, what are the perspectives of contemporary tohunga whakatere waka on Māori navigation aids today, and which stars do contemporary tohunga whakatere waka use in Māori navigation?