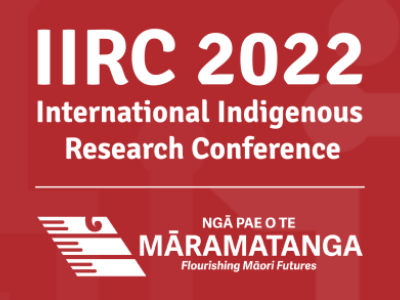 Celebrating 20 years of being Aotearoa New Zealand's only Indigenous Centre of Research Excellence, Ngā Pae o te Māramatanga (NPM) are excited to invite you to join us online from 15 – 18 November 2022 for our 2nd virtual and 10th International Indigenous Research Conference (IIRC).
Te Pūtea Rangahau a Marsden, the Marsden Fund, supports research of excellence in Aotearoa New Zealand in the areas of science, engineering, maths, social sciences and the humanities and again NPM researchers have succeeded in their bids to conduct research projects that will deliver impact and value to our communities.

The HRC supports research that has the potential to improve health outcomes and the delivery of health-care, and also to produce economic gains for New Zealand.

It allocates the majority of its funds through an annual allocation to independent research projects that are researcher initiated, and NPM Principal and Associate Investigators have enjoyed success in this years round.

Professor Helen Moewaka Barnes (Massey University)
- Tangata Whenua Tangata Ora: Investigating health gain through whenua initiatives (Programme 2019 Funding Round)

NPM has developed and confirmed eight new seed and scope research projects that will deliver innovative, inspiring and impactful research, and initiate and lead to transformative outcomes.

Te Reo me ngā tikanga Māori

NPM congratulates our affiliated researchers who were acknowledged by the Royal Society Te Apārangi at the RSNZ 2019 Research Honours evening held in Dunedin on Thursday 17 October.

Dr Ocean Ripeka Mercier (Ngāti Porou) was awarded the 2019 Callaghan Medal for her pioneering work to engage audiences in science and mātauranga Māori,

The inaugural Te Rangaunua Hiranga Māori Award, which recognises excellent, innovative co-created research conducted by Māori that has made a distinctive contribution to community wellbeing and development in Aotearoa, has been awarded to Ngā Pae o te Māramatanga, New Zealand's Māori Centre of Research Excellence, by Royal Society Te Apārangi.

In a new initiative, Ngā Pae o te Māramatanga (NPM) New Zealand's Māori Centre of Research Excellence is celebrating and recognising the careers of three Māori leaders and visionaries, who have a long history of bringing about major social change and impact in Aotearoa New Zealand. 

Professor Rawinia Higgins, NPM Board member, says that these new Ruānuku positions formally acknowledge the generous ongoing roles these exceptional Māori leaders have agreed to provide to NPM.

The University of Otago recently appointed seven of its leading scholars to prestigious new roles as sesquicentennial distinguished chairs, and one of these appointees was NPM's co-director Professor Jacinta Ruru.

On Thursday 12 September, Ngā Pae o te Māramatanga New Zealand's Māori Centre of Research Excellence (NPM) released its third Te Arotahi paper calling on government to pay even closer attention to the issues of whānau and whakapapa within the criminal justice system.  This paper advocates for the development of a new paradigm of transformative justice based on whānau development that values tino rangatiratanga and tikanga Māori.

Whakawaiwaitia te reo kia kōrero
Whakawaiwaitia te reo kia tika
Whakawaiwaitia te reo kia Māori

Nei rā te whakatau hei arataki nei i a tātou,
Hāunga rā mō te wiki, mō te Mahuru Māori rānei,
Heoti, mō āke tonu anō.

Whakatōkia te reo ki te hirikapo ihumanea,
Kia tīparehia te matenga
Hei huia kaimanawa māu,
Mā tō whānau, mā tō iwi anō hoki.

Earn some money over summer! Work with some of Aotearoa's leading academics! Gain valuable insight into the research world!

Ngā Pae o te Māramatanga's 2019-2020 summer internships are now open for applications from interested students.

$6000 stipends are available for each internship, over 10 weeks.

In 2019, there are 30 projects available for students to select from and at least 20 internship positions will be confirmed.