Tangaroa Ara Rau: Tangaroa the Atua of Human Movement
Project commenced:
This research report has been titled Rākau-nui as an acknowledgement to the full moon phase in the Maramataka (Māori lunar calendar). Rākau-nui also represents the collected journey to which this full report has been constructed from. The Maramataka is
a repository of ancient and traditional knowledge orally handed down throughout the generations by our forebears to ensure the sustainability of a healthy environment and thus healthy people (Tawhai, 2013).
The Maramataka is a system of phases which allow Māori to construct ways to interact with the environment.
Tangaroa personifies the domain which covers 80% of the planet. This domain consisting of many components from the tides, oceans, seas, and all that it inhabits.
Hauora Māori, Tangaroa and the Maramataka all reflect the holistic view to which Māori look and understand their world. Tangaroa is the personifying atua of the ocean and seas and the Maramataka is a critical component of the movements of the oceans, seas and water ways. Considering our biological make up is composed of 70-80% water, there has always been wonder on the effect on the moon towards human behaviour both psychologically and physiology. Therefore, the Maramataka and Tangaroa should have a pivotal role in regard to Māori health, both as individuals and as a community. The knowledge within the Maramataka and the many kōrero of Tangaroa help to keep the Māori culture well and truly alive. The movements of the water should reflect how we as Māori interact with the natural world.
Ngā Pae o te Māramatanga's (NPM) ngā Ākonga Series provides a platform for NPM Māori summer intern research reports to be published online. The internships are an opportunity for Māori students to participate in a research project, gaining experience and skills alongside established Researchers. The ngā Ākonga series is published annually.
Research Lead(s) and Team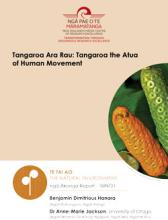 Download related files: