Taking Control: Māori Responses to Money, Wealth and Savings
Project commenced:
What current methods do Māori use to manage money? What financial products and services are likely to be effective for Māori and how might these be successfully implemented? What support can Māori organisations (including iwi) and the government provide to increase whānau financial literacy and savings?
Poverty within many Māori communities is perpetuated by low incomes, poor financial literacy and a lack of whānau role models who encourage saving. For change to occur, financial education, collaborative community efforts and radical behavioural shifts are required.
This project filled a historical lack of knowledge in this are by helping whānau Māori to explore, scope and design their own culturally responsive financial services. Using money management diaries weekly and bi-monthly interviews, the project gathered detailed data from 15–20 low-income Māori individuals/whānau over a 6-month period.
This data has informed the design of relevant community/hapū/whānau-based savings programme, as well as providing the impetus for a follow on research project which explores the efficacy of culturally responsive financial literacy education.
Research Lead(s) and Team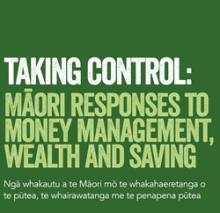 Download related files: