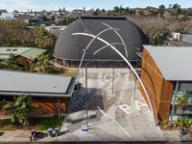 2017 Aug 30 8:30 AM
Through its MAI Te Kupenga network, Ngā Pae o te Māramatanga and Te Kotahi Research Institute are currently providing a series of free wānanga and webinar events, which are hosted and organised through MAI ki Waikato.
On Wednesday 30 August and Thursday 31 August a strategically designed two-day workshop will be held in the Fale Pasifika, at the University of Auckland and will include talks by a series of renowned and experienced New Zealand researchers, academics and experts including Moana Jackson, Professor Linda Smith, Dr Mera Lee-Penehira, Hinekura Smith, Dr Mohi Rua, Professor Rawinia Higgins, Professor Tracey McIntosh and Associate Professors' Leonie Pihama and Jenny Lee-Morgan from the Te Kotahi Research Institute as well as two acclaimed international speakers:
Associate Professor Michelle Johnson-Jennings is an enrolled member of the Choctaw Nation of Oklahoma and Director of the RICH (Research for Indigenous Health) Center, Associate to the Dean for Indigenous Health, and Associate Professor, Department of Pharmacy Practice and Pharmaceutical Sciences at the University of Minnesota.
Professor Maggie Walter - is a Trawlwoolway woman of the Pymmerrairrener Nation of North-East Tasmania and the inaugural Pro-Vice Chancellor of Aboriginal Research & Leadership at the University of Tasmania.
This enhanced Auckland based workshop will be focused on Kaupapa Māori Research Methods and will provide a space where Māori and Indigenous students, mid-career researchers and senior scholars can share and workshop knowledge and information.
It is designed to support Māori and Indigenous students and emerging researchers to develop capacity in regards Kaupapa Māori research theory, Indigenous methodology and practice, and leading research case studies will be explored to support participants move from research into action.
Registration is required, with limited spaces available.
The workshop is free to attend, includes meals, and runs from 8.30am - 5pm, with evening events at the end of both of the days.
On Day One there will be an evening of inspiration and interaction with Moana Jackson and Linda Smith at 5.30pm, and on Day Two, an Indigenous book launch will be hosted by NPM's outgoing Co-Director, Professor Tracey McIntosh. 
Written by Associate Professor Dominic O'Sullivan (Charles Sturt University) - Indigeneity: A Politics of Potential - Australia, Fiji and New Zealand, provides the first comprehensive integration of political theory to explain Indigenous Politics.
To find out more about the Tikanga Rangahau Wānanga Series and to register please visit the Te Kotahi Research Institute application page