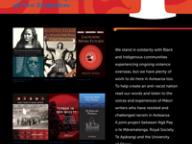 NPM Co-Director Professor Jacinta Ruru, Associate Professor Angela Wanhalla and Jeanette Wikaira have released the Read our Words poster, profiling ten easily accessible Māori authored non-fiction books. 
The poster encourages the public to engage with the voices and experiences of Māori to help create an anti-racist Aotearoa New Zealand.
"One way for New Zealanders to help create an anti-racist nation is to 'read our words' and engage in the depth and diversity of Mātauranga Māori. Māori writers have been resisting and challenging racism since Pākehā and the written word first arrived in Aotearoa. This poster reminds Aotearoa of this, and we hope it will be printed and posted in corridors throughout the country in schools, community halls, marae and public libraries," Professor Ruru says.
The poster is the latest undertaking from the Te Takarangi team who initially produced a curated list of 150 Māori Non-Fiction books from 1815 to 2017.  
"The poster has been something we have wanted to do since the inception of our Te Takarangi project, and our vision is to see the posters pinned up in every school and library in the nation, promoting Māori scholarship, Mātauranga Māori and combating racism", Wikaira says.