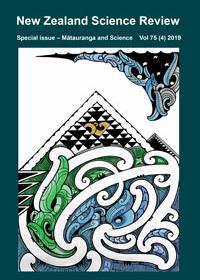 Ngā Pae o te Māramatanga and NPM researchers have contributed to the latest special issue of New Zealand Science Review, which is the first of two dedicated to Mātauranga and Science in Practice.
Dr Tahu Kukutai, Professor of Demography at Te Rūnanga Tūtari Tatauranga, Te Whare Wānanga o Waikato has joined with Professor Juliet Ann Gerrard the Prime Minister's Chief Science Advisor, to write the forward for the issue.
Together they talk about what a distinctively Aotearoa New Zealand science system should look like, how Aotearoa New Zealand is confronted with enormous environmental, societal and technological challenges that require our scientists and researchers to go beyond the ordinary, and that Māori are often at the nexus of these many challenges.
They describe a vital need to have "multiple ways of thinking, knowledge systems and approaches to understand and respond to complex challenges including climate change, food insecurity, biosecurity, health inequities, poverty, and the disruptive impacts of digitalisation."
Later in the issue NPM Researchers Dr Ocean Mercier (Victoria University of Wellington) and Associate Professor Anne-Marie Jackson (University of Otago) in their introduction to Mātauranga and Science they start with the comment that "Māori have become a pivotal force in New Zealand's science system, with the torsion of tikanga Māori inviting the system to open its doors to Indigenous values."
Multiple NPM allied researchers contribute to the article "Towards building an Indigenous Science Tertiary Curriculum" whilst past, present and future Directors of NPM have combined to write the article "Whāia ngā pae o te māramatanga: our horizons of pursuit" which talks about how in less than two decades NPM has contributed strongly to changing the research landscape in NZ and helped to ensure that the wider science community now recognise the value of Māori leadership in research design and delivery.
You can link to this latest issue of the NZ Science Review from their website here, or below.