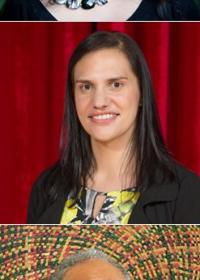 NPM recently celebrated the award of 7.5 years of Centre of Research Excellence funding from 2021 - 2028, and with the end of our current Centre funding looming (recently extended to 30 June 2021) changes in staff are a foot. We have departures from our leadership groups as well as the Auckland based secretariat.
We noted and celebrated Professor Poia Rewi's contributions, leading NPM's Te Reo me Ngā Tikanga Māori programme for the past few years, with his move to CEO of Te Mātāwai recently.   In addition, our fabulous AlterNative Journal Co-ordinator Te Kororia Netana transitioned to a new role with the Ministry of Culture and Heritage, based at the University of Auckland.
While we have had farewells and departures we are pleased to welcome additions to the team, Wiremu Meha (Te Aitanga ā Māhaki, Ngāti Kahungunu, Rangitāne, Te Roroa, Te Aupouri) takes on the role of Journal and Publications Coordinator – AlterNative, and comes to NPM from University of Auckland Teaching and Learning. Wiremu (pictured) holds a Bachelor of Science in Biological Sciences from Brigham Young University–Hawaii, and a Bachelor of Human Biology from the University of Auckland.  He also holds a Diploma in Applied Science (Animal Biology) from the University of Waikato, and a Graduate Diploma in Teaching (Secondary) from the University of Auckland.  
We have also been very pleased to welcome two new leaders to our Research Leadership team recently - Associate Professor Meegan Hall (Ngāti Ranginui, Ngāti Tūwharetoa) - Victoria University of Wellington, and Dr Karyn Paringatai (Ngāti Porou) - University of Otago.
 
Meegan is Associate Professor at the Centre for Academic Development and Assistant Vice-Chancellor (Mātauranga Māori) at Victoria University of Wellington and leads NPM's Professional Excellence Strategy. She specialises in Māori academic development - academic practice and higher education learning and teaching; Māori studies; kaupapa Māori and Māori-centred methodologies; Māori academic practice, Māori pedagogies and Māori student achievement in higher education.
 
Karyn has taken on the role of NPM's Pae (Theme) leader Te Reo Me Ngā Tikanga Māori. Karen is currently a Programme Coordinator for Master of Indigenous Studies (MIndS) at Te Tumu and her research interests include sociological issues surrounding Māori urbanisation, Māori identity development and maintenance, Māori performing arts and the analysis of haka and waiata compositions. Her research encompasses the role kapa haka plays in identity, grammatical aspects of the Māori language and second language acquisition and Māori language and Māori performing arts teaching methodologies.