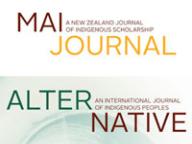 As part of our Tautoko Strategy, Ngā Pae o te Māramatanga is committed to ensuring that our researchers have a platform for communicating their expertise and insights into Covid-19 and the wider implications it may have on whānau and Indigenous communities.
 
We know that the work of our research community will be critical to addressing the challenge of Covid-19, and so our MAI Journal and AlterNative Journal Co-Editors are currently calling for a special collection of Situation Reports focused on Covid-19 and the impacts it will have our Indigenous communities.
 
A Situation Report is a short piece authored by a leading research expert(s) that provides a quick, clear, concise understanding of a developing critical issue relevant from an Indigenous perspective – focusing on meaning and context, in addition to the facts.  A Situation Report clearly calls for attention or action.
We are seeking Situation Reports that consider the impacts, challenges and opportunities of Covid-19 for Indigenous populations.
We are interested in receiving Reports from our Indigenous academic experts from around the world who can reflect on the experience for our Indigenous communities and the action now required.
We would like to receive contributions from many different disciplines, including public health, medicine, science, social sciences, commerce, arts, humanities, law, and engineering. 
Please submit your report here, using our single submission portal.  If you have a preference for publishing in the MAI Journal or AlterNative Journal please make this known at the time of submission.  The final choice will lie with the Co-Editors. 
 
MAI Journal submissions will critically analyse and address Māori and Pacific issues in Aotearoa New Zealand.
 
AlterNative submissions will critically analyse and address Indigenous perspectives with a global, comparative or country specific focus (including Aotearoa New Zealand).
 
We are committed to doing what we can to support you and we will be working through a process that will aim to publish these Situation Reports online as they become ready, within 6 weeks of submission.
The published reports will be collated to sit within one of NPM's two peer-reviewed Journals; MAI Journal: A New Zealand Journal of Indigenous Scholarship and AlterNative: An International Journal of Indigenous Peoples.
 
Submission and Deadline Details
NPM commits to publishing open access research relevant to the current pandemic.
Submissions will be published in the MAI Journal or AlterNative Journal, depending on  content. If authors have a preference, they will note this at the time of submission. Final decisions lie with the Co-Editors.
Submissions will be 2,000 words maximum including title, keywords, abstract and references.
Submissions must meet the journal requirements. Please submit your paper here via NPM's Submission Portal.
There will be a limited single peer review process for these submissions to ensure a timely turn around through to publication.
For all enquiries, please contact the relevant journals:
MAI Journal                                                                                                     
editors@journal.mai.ac.nz                                                   
www.journal.mai.ac.nz                                                                            
AlterNative Journal
editors@alternative.ac.nz 
www.alternative.ac.nz
https://journals.sagepub.com/home/aln
 
For more information about Ngā Pae o te Māramatanga's Tautoko Covid-19 response strategy, please link to our pages here