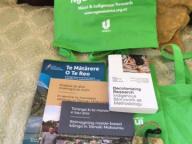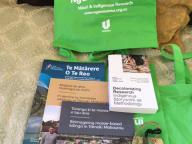 2019 Nov 14 9:00 AM to 2019 Nov 17 5:00 PM
Puketeraki Marae, North Otago
In mid November, 87 Māori doctoral students from a broad range of disciplines came together from all over Aotearoa, along with some international Indigenous PhD students, to share their research in a Māori supported way.
 
This year, the premier Ngā Pae o te Māramatanga national annual MAI Doctoral Conference was led by MAI ki Otago (University of Otago) at Puketeraki Marae in Karitane, North Otago. As students arrived into Dunedin, they were warmly welcomed onto Otago campus at Te Tumu School of Māori, Pacific and Indigenous Studies, where guest speakers included Dr Tangiwai Rewi and Dr Anne-Marie Jackson.  From there, the students boarded the bus for the drive to the beautiful coastal Puketeraki Marae which became their home for 3 nights. The mana whenua Kāti Huirapa Rūnaka ki Puketeraki generously sat with and shared their research journeys with inspiring kōrero from many including Brendan Flack, Emeritus Professor Khyla Russell, Dr Lyn Carter and Dr Katharina Ruckstuhl.
 
Throughout the wānanga, each MAI site around the country presented their research. Student highlights included "whakawhanaungatanga between all the Universities", "being buzzed out in a being in a space with so many Māōri PhD students", and "learning about all the different research Māori are doing, and why and how".  First time attendee, Ngahuia said as she gathered for the pōwhiri with great excitement "I've heard lots about MAI and my supervisor was so encouraging - you have to go, it's where you'll make all your mates".
 
Co-Director Jacinta Ruru reflects that it was "once again a totally empowering and inspiring experience for students and staff.  I'm so deeply proud of all the students.  They are doing the most incredible research.  I thank the organisers, the mana whenua, the students and, also, their supervisors for encouraging them to attend".
 
Planning is already well underway for next year's MAI doctoral conference, to be hosted by MAI ki Waikato in November 2020.  All Māori doctoral students throughout Aotearoa are encouraged to attend.