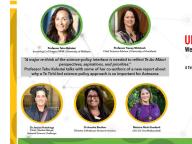 2021 Apr 28 12:00 PM to 2021 Apr 28 1:00 PM
"A major re-think of the science-policy interface is needed to reflect te ao Māori perspectives, aspirations, and priorities."
Join some of the authors of a new report that argues for a Te Tiriti-led science-policy approach for Aotearoa, and find out why this kaupapa is so important for Aotearoa.
"Te Pūtahitanga" is due to be published 28-April 2021
TE PŪTAHITANGA
This paper examines the interface between science and policymaking and calls for a policy approach that is enabled by, and responsive to, Te Tiriti o Waitangi and Mātauranga Māori. For a science sector to have its greatest reach and impact for all citizens, it must demonstrate relevance, accessibility and inclusion. In Aotearoa, there has been concern about the exclusion of Māori and Pacific expertise from science advice and key decision-making roles. Te Tiriti offers a powerful framework for connecting systems and communities of knowledge in ways that are mutually beneficial and future focused.
Authors
Tahu Kukutai, Tracey McIntosh, Amohia Boulton, Meihana Durie, Meika Foster, Jessica Hutchings, Melanie Mark-Shadbolt, Helen Moewaka Barnes, Te Taiawatea Moko-Mead, Sarah-Jane Paine, Suzanne Pitama, and Jacinta Ruru
THE PANELISTS
Tracey McIntosh MNZM (Tūhoe) is a Professor of Indigenous Studies at the University of Auckland and Co-Head of Wānanga o Waipapa (The School of Māori Studies and Pacific Studies). She is the Chief Science Advisor to the Ministry of Social Development, and a Commissioner of the Criminal Cases Review Commission. She was previously Director and Co-Director of New Zealand's Māori Centre of Research Excellence Ngā Pae o te Māramatanga (2007-2010, 2014-2017). Her recent research focuses on incarceration (particularly of Indigenous peoples), social harm minimisation, inequality and justice.
Jessica Hutchings (Ngāi Tahu, Ngāti Huirapa, Gujarati) is a senior kaupapa Māori researcher and research leader. Jessica has held senior management and leadership roles in the Māori science and research sectors. She is a member of the MBIE Science Board, is the Chair of the Rauika Māngai - a cross National Science Challenge Māori Leadership group, a Trustee of the Pohoro STEM Academy and Governance member of the Resilience to Nature's Challenge - National Science Challenge. She is also a widely published author, including recent books, Te Mahi Onoeone Hua Parakore: A Māori Soil Sovereignty and Wellbeing Handbook (Freerange Press 2020). Her books Te Mahi Māra Hua Parakore: A Māori Food Sovereignty Handbook (Te Tākupu, 2015) and Decolonisation in Aotearoa: Education, Research and Practice with Jenny Lee-Morgan (NZCER Press, 2016) were both winners of the Kōrero Pono, Ngā Kupu Ora Aotearoa Book Awards. 
Amohia Boulton  (Ngāti Ranginui, Ngai Te Rangi, Ngāti Pukenga, Ngāti Mutunga and Te Āti Awa ki te Waka a Māui), is the Director of Whakauae Research Services, an Iwi-owned and mandated health research centre in Whanganui, New Zealand. She is also an Adjunct Professor at the Health Services Research Centre, Victoria University of Wellington and in the Faculty of Health and Environmental Sciences at Auckland University of Technology (AUT). Amohia holds a number of governance positions including membership of the Healthier Lives, He Oranga Hauora National Science Challenge Governance Group Kahui Māori and she is the Lead Whānau Ora Technical Advisor to the National Iwi Chairs Forum. As a health services researcher with some twenty years experience, Amohia's research interests focus primarily on the relationship between, and contribution of, government policy, contracting mechanisms, and accountability frameworks to improving health outcomes for Māori. Recent publications have explored issues as diverse as research ethics, the place of Māori approaches to wellbeing (whānau ora) and Rongoā Māori (traditional healing) in the publicly-funded health system, and colonisation, care, and justice.
Tahu Kukutai (Ngāti Tiipa, Ngāti Kinohaku, Te Aupōuri) is incoming Co-Director of Ngā Pae o Te Māramatanga and is Professor of Demography at the National Institute of Demographic and Economic Analysis, The University of Waikato. Tahu specialises in Māori and indigenous demographic research and has written extensively on issues of Māori population change, official statistics, Indigenous data sovereignty, and ethnic classification. Tahu is a founding member of the Māori Data Sovereignty Network Te Mana Raraunga and the Global Indigenous Data Alliance. She co-edited Indigenous data sovereignty: Toward an agenda (ANU Press, 2016) and Indigenous data sovereignty and policy (Routledge, 2020). Tahu has undertaken research for numerous iwi, Māori communities, and Government agencies, and provided strategic advice across a range of sectors. She is a member of the Chief Science Advisor Forum and a technical advisor to the Data Iwi Leadership Group of the Iwi Chairs Forum.
Melanie Mark-Shadbolt Ngāti Kahungunu ki Wairarapa, Ngāti Porou, Te Arawa, Ngāti Raukawa, Ngāti Tuwharetoa, Te Atiawa, is an indigenous environmental advocate who is a co-founder and the CEO of Te Tira Whakamātaki, a Māori environmental not-for-profit and home of the Māori biosecurity network. She is also the Kaihautū Ngātahi Director Māori of New Zealand's Biological Heritage National Science Challenge and Deputy Secretary Māori at the Ministry for the Environment. Melanie specialises in understanding and applying mātauranga Māori (Māori knowledge) to biosecurity and biodiversity issues. She has a specific interest in decolonising ideologies of conservation and restoration in order to address injustices and harm caused to indigenous peoples and our planet. Her work has covered research in stakeholder values, attitudes and behaviours; social acceptability of management practices and risk communication; and the wider human dimensions of environmental health.  Shortlisted as a finalist of the Westpac Women of Influence awards in 2019, Melanie currently serves on a number of governance and advisory bodies including the boards of Project Crimson, and B3 Better Border Biosecurity Collaboration Council, the Kauri Dieback & Myrtle Rust Strategic Science Advisory Group (SSAG), and Wallaby eradication governance group.   She is committed to working with organisations who are committed to meeting their Treaty responsibilities and addressing indigenous rights.
Related Links
REGISTER FOR THE WEBINAR HERE