In this quarterly webinar series Māori experts will be lead discussions on high quality research and evidence for interventions and policy.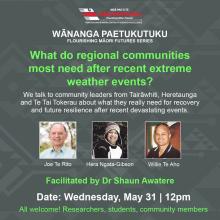 We talk to community leaders from Tairāwhiti, Heretaunga and Te Taitokerau about what they really need for recovery and future resilience after recent devastating events.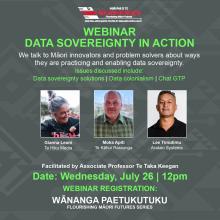 We talk to Māori innovators and problem solvers about ways they are enabling data sovereignty for their communities.
Under discussion was data sovereignty solutions, data colonialism, Māori data weaponisation and ChatGTP.