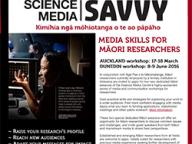 2016 Feb 10 5:30 PM
In conjunction with Ngā Pae o te Māramatanga (NPM), the Science Media Centre is running two dedicated media and communications workshop sessions for Māori researchers. 
The first workshop will be held at Waipapa Marae, Auckland, on the 17 - 18th March, 2016. The second workshop will run from 8-9th June in Dunedin.
These sessions are designed to give attendees practical skills and strategies in explaining their project work to a wide audience, and engaging more effectively with not only the media, but stakeholders, conference audiences and in general public outreach.
The sessions will focus on common issues and challenges for Māori researchers, and will include guest speakers from both Māori and the mainstream media to share their perspectives.
Both established and mainstream researchers are encouraged to apply. Twelve positions are available within each workshop and all applications must be received by 26 February (for the Auckland workshop) and 29 March (for the Dunedin workshop).
Workshop fees will be waived for NPM affiliated researchers, but all are welcome to apply.
You can download a copy of the flyer above here. 
Or visit the Science Media Centre website and submit your application online now!